* I suggest: Place a flash in the tabs that are playing, example: When playing the main list, a flash is shown in its tab. It would also be great to do it with cart wall. With this we will have a visual warning to know in which tab something is reproduced.
Set the color for active tabs to red then it is always different to other tabs
Maybe DJsoft could ad such an option for the cardwall into the style settings...
or maybe even for all work zones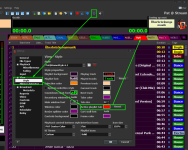 Last edited: