Hi Dmitry
@djsoft
,
this is a mix between questions and suggestions, that's why I created this thread in the support section.
---
is it possible to use key combinations (e. g. "CTRL" + "SHIFT" + "G"), not only one key?
Also I miss a shortcut for "start/stop broadcasting" and "start/stop stream archive" (not pause). Or an option to start/stop stream archive automatically when broadcasting starts/stops.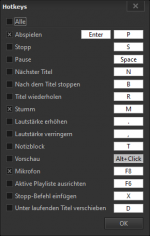 All these shortcuts should be available "system wide", so that these works even if RadioBOSS is in the background. Maybe as an option?
---
Further it would be nice to disable that "stop broadcasting" dialogue. Is that possible?

---
I wish there would be a way to custimze the hotkeys completely, not only pressing CTRL/ALT, release and press another key.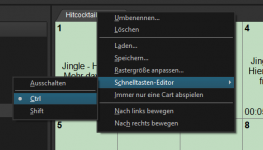 ---
How to remove these note icons from playlists?
The defference between played and not played doesn't make any sense (to me), because I use songs multiple times. I don't create a new playlist every time , I rework the existing, so songs are marked as played even though they aren't.
Another suggestion: Maybe you can make the function "already played" deactivatable?!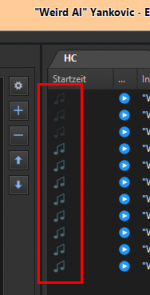 ---
Further it would be fantastic to add a function to insert a Hook from a single song by short time without using the complex teaser function.
(E. g. right click on a playlist entry and "insert hook / teaser").
Regards
Sebastian
Last edited: